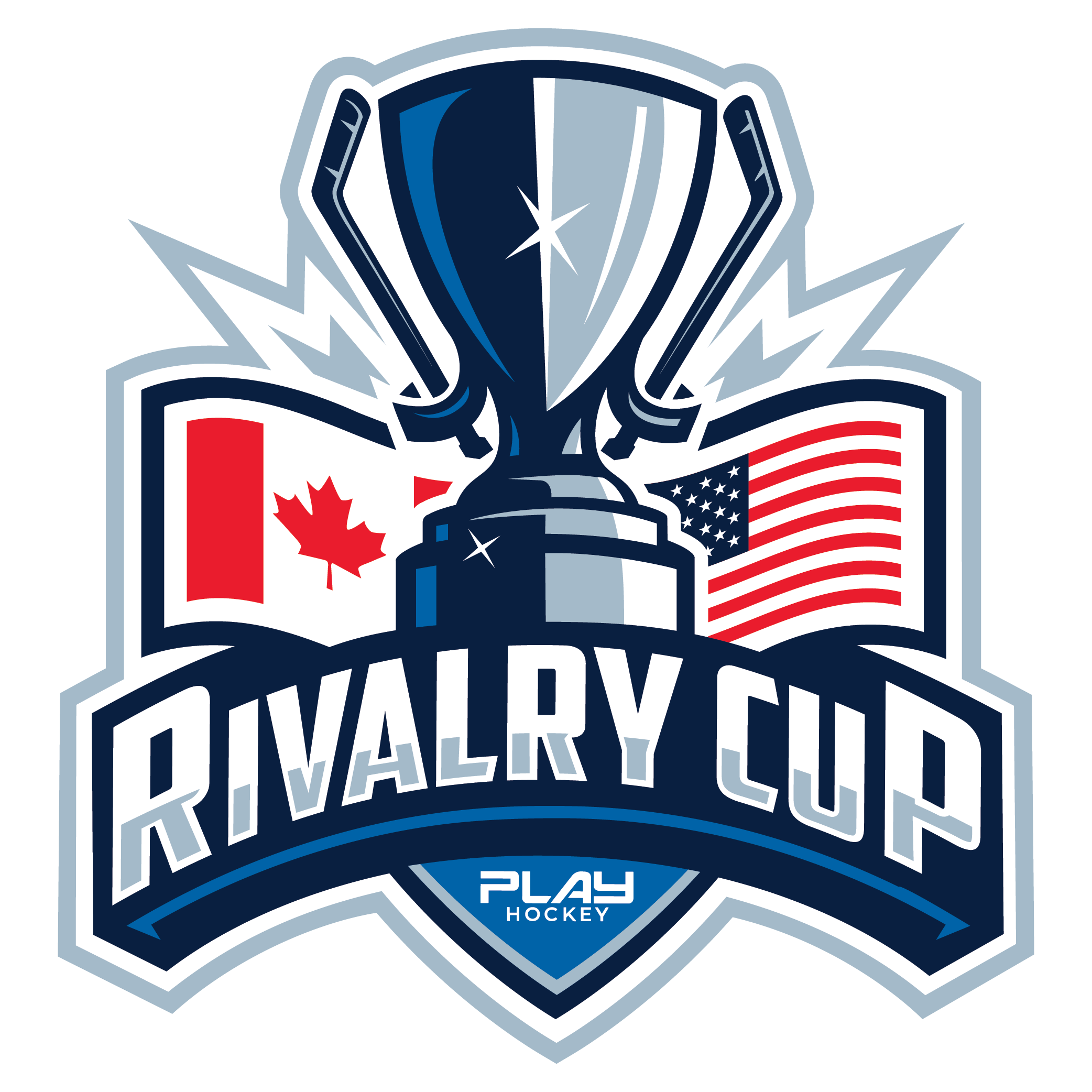 Rivalry Cup Detroit
Gender:

Female

Dates:

November 29-December 1, 2024

Age:

U19-U10

Location:

Detroit, MI
Female Event

Division

Division

Team-Entry

Division

USA Sanctioned
Register Now!
Event Details
The Rivalry Cup Girls Tournament brings in teams from all over the USA and Canada. Come battle it out against each other in a 5-game guarantee tournament. Each team receives points from a win and every win adds up to the Nation's point total. All players will receive customized jerseys & socks for their representing country. Get ready for a fun and unforgettable experience!
Division:
Tier 1 Division/ Level- USA- AAA teams, Canada AA teams
Tier 2 Division/Level - USA - AA/A teams, Canada - A/BB teams
Discounts available as below:
* Multi-team discount (3 or more) - $100/team
* Canadian team discount - $200/team
USA Age Divisions
U10 (2014/2015)
U12 (2012/2013)
U14 (2010/2011)
U16 (2008/2009)
CANADA Age Divisions
U11 (2014/ 2015)
U13 (2012/2013)
U15 (2010/2011)
U18 (2008/ 2009)
Cost: $2,300
Register Now!
Contact
Name: Hannah McGowan
Email: hmcgowan@playhockey.com
Phone: 313-641-9715
Inquire Today!
Hotels
This is a Stay To Play (STP) event. All participating teams/individuals that live outside of an hour are considered a travel participant and must follow the event STP policy, unless otherwise approved by the event director. Should a team/individual decide that they do not want to stay in our approved hotels there is an opt out fee.
To book your hotel, click here.
For information or questions regarding hotel bookings - please contact Team Travel Source at playhockey@teamtravelsource.com or 502-354-9103.
Arenas
Eddie Edgar Ice Arena

33841 Lyndon, Livonia, MI
Livonia, MI 48154
Get Directions

Farmington Hills Ice Arena

35500 Eight Mile Rd
Farmington Hills, MI 48335
Get Directions
Rules
2023 Rivalry Cup Girls Tournament Rules
NO TOURNAMENT OFFICIAL has the right to change a score sheet or reverse a call from a referee. Once the game is over and the officials have signed the scoresheet, the score sheet is FINAL.
● All Teams must be rostered with USA Hockey, the Canadian Hockey Association or the appropriate IIHF affiliate.
● Teams are required to bring their official team roster, as well as, their travel permit (if required by their governing body) to each game.
● Players and coaches should report to the arena at least one hour prior to each game.
● A maximum of four team officials may be on the player's bench at one time.
● All teams must be prepared to begin any game 15 minutes ahead of schedule.
● The home team will wear white jerseys and visitors wear dark.
Officials
● All Tournament officials are current members in good standing of USA Hockey and are deemed qualified to officiate at the level of play assigned.
● A zero tolerance for verbal abuse is in effect and will be enforced for all team officials, players, and spectators.
● Appropriate penalties will be assessed for disputing or arguing a decision of the officials, any visual demonstration of dissatisfaction, or for the use of obscene or vulgar language to anyone at any time during the tournament.
● Please keep in mind that the tournament director does not have the authority to reverse the decisions of the game officials.
Tournament Rules
Teams will represent their country and play 5 games. Points will be awarded after each win and tie. Round robin points accumulate to determine which country will be home on Sunday. The country with the most points after round robin play will be awarded home ice advantage for all Sunday games.

Sunday seeded games are weighted from least to greatest. Each game will have a set point total that will increase with the higher seeded games.

Round robin points DO NOT carry over into Sunday. The country with the most points on Sunday will be crowned the winner.

Game times per age group

● U-12: 3 X 13 min stop-time periods.

● U-14, 3 X 14 min stop-time periods.

● All divisions will get a 3 minute warm-up.

No overtime will be played in preliminary rounds.
Equipment specifications are as per each team's governing body i.e. USA Hockey teams must wear mouth guards and Hockey Canada teams must wear BNQ certified neck guards.

All teams MUST be available to play up to 15 minutes prior to the scheduled start time.

The USA Hockey minimum suspension guidelines will be strictly enforced. All suspensions will be enforced according to USA HOCKEY Constitution, by-laws, and regulations and rules.

Any individual PLAYER receiving 4 penalties in ONE game or any TEAM receiving 12 penalties in one game, player or coach respectively will receive a game misconduct.

If the goal spread at any time of the third period reaches 5 goals, the clock will run until the spread is reduced to 3 goals, then stop time will resume.

Goal cap for all divisions- 7 goals. (Example- 10 - 0 game will be posted 7 - 0)

One 30-second timeout will be allowed for each team during Sunday seeded games

only. Overtime is not a new game. NO TIMEOUT in round robin.

A maximum of 20 players with no more than 18 skaters may be rostered with each team.

To be eligible to participate in the tournament, the participant's name must appear on the team roster form submitted with the final roster submission. Any changes to the roster must be made in writing and will not be permitted after registration prior to the first game. ALL players must be registered with their governing body.

Teams will be awarded 2 points for a win, 1 point for a tie and zero (0) points for a loss.

Standings after the round-robin will be calculated on the basis of the points awarded as per rule 14.

In the EVENT OF A TIE, the following criteria will be used to break the tie:

Winner between the tied teams when they played head-to-head. (Applies to 2-way ties only, 3-or-more teams tied start with tiebreaker 16.2)

Percentage as calculated by dividing team's total "Goals For" by the SUM of the team's "Goals For and Goals Against". TGF / ( GF+GA) = %

Fewest Goals Against.

Most Goals For.

Fastest Goal Scored.

Follow tie-breaking rules in order. Once a tie-breaking rule has been used or is not applicable it cannot be used again.

Home teams must wear light-colored jerseys. In the event of a conflict, the home

team must change their jerseys. Visiting teams will advise the opposing team of any conflict 30 minutes prior to game time.

Awards will be given out to all the teams under the country who has the most points after the Sunday games. Round robin points do not carry over into Sunday.
All team officials must sign the game sheet prior to each game. Players are not required to sign the game sheet in USA Hockey.

It is the team's responsibility to ensure a clean dressing room is left upon completion of their game. All teams are requested to vacate the dressing room 30 minutes or less after their game is completed.

The decisions of the tournament officials are final with no appeals.
Overtime Rules
Sunday seeded games are played to a winner. There is no OT or shootout in consolation games.

In the event of a tie at the end of regulation time a SUDDEN-VICTORY FIVE (5)-minute overtime will commence.

Teams will start overtime play with 4-on-4 plus goalies. Players may be changed at any time. Goalies may be "pulled" at any time and a substitute skater -player from the bench may be used.

If still tied at the end of the sudden-victory overtime, a SHOOTOUT will occur.

Each team MUST designate 3 shooters (S1, S2, S3) to the officials prior to the start of the shootout.

Any player serving a penalty at the end of overtime will not be eligible to participate in the shootout. The coach must designate a shooter to take her place immediately at the end of regulation time.

All players except shooter and goalies will be on the bench TO START.

Once a player has shot, they will go to their team bench.

All 3 designated shooters from each team will shoot.

If still tied, each team will designate one shooter at a time until there is a winner.

A player may not shoot for a second time until all players on the game sheet (except goalies) have shot.
*** If a penalty occurs during the 5-minute stop-time OT, the teams play 4-on-3. If a second penalty is called on the SAME TEAM and the first penalty has not expired, then it will be treated as a delayed penalty and will commence when the first penalty expires. The maximum a team may be at a disadvantage is 4-on-3.***
Tournament sanction number
MIT23102233314
FAQ
Please refer to our cancellation policy
here
.
For some events, we are able to accept "free agents'' and place an individual on a Participating Team's roster. Please reach out to the Tournament Director for the event you're interested in to see if there is an open spot! Their contact information can be found directly on the Tournament Details page.
Of course! Finding the right tournament is important and we'd love to help. Please fill out our contact form
here
and we will be in touch shortly!
We love to establish relationships with our customers and recognize those that continue to choose Play Hockey for their amateur hockey experiences. Please direct your inquiry to the relevant Tournament Director or Program Manager.
Play Hockey offers tournaments across all levels, from Recreational / Open to Elite. Please contact us today and we can assist you with finding the right offering for your Player or Team.
Of course! We offer female only tournaments, female specific teams, and a number of co-ed tournaments with female divisions. Please fill out our contact form <here> and we will be in touch to walk you through our female programming!