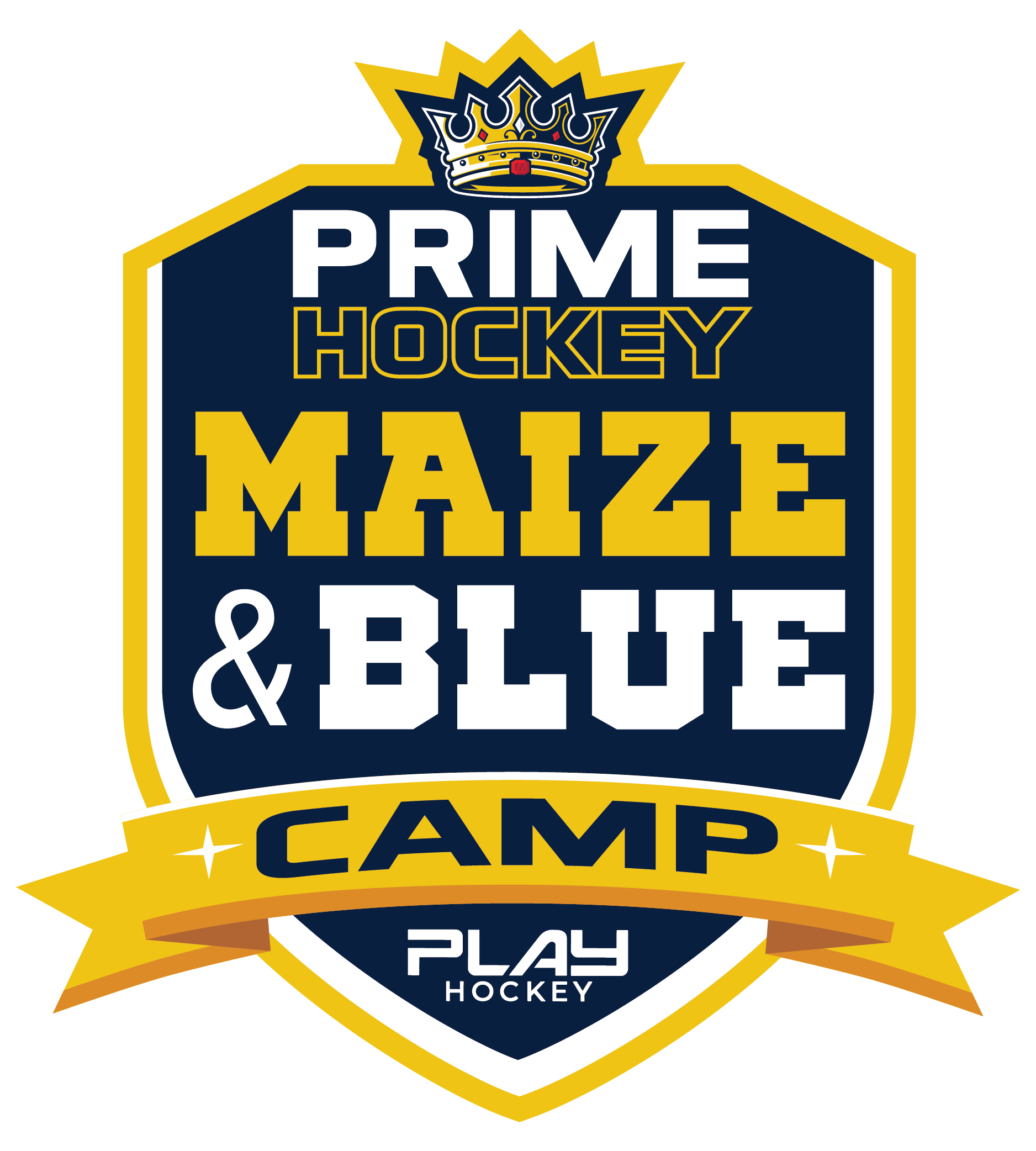 MAIZE & BLUE CAMP
Gender:

Male

Dates:

August 3-6, 2023

Age:

2009 & 2011

Location:

Ann Arbor, MI
Showcase

Elite Division

Male Event

Development

Individual-Entry

Invite Only

Scouted
Event Details
The 2023 Prime Maize and Blue Camp will host players from the US and Canada at the 2009 & 2011 birth years.
Participants will have the unique opportunity to learn transferable-to-game skills from professional coaches at various levels, including AHL, NCAA Div I, U.S. National Team Development Program, USHL, and Bishop Kearney Selects. The Camp will host a maximum of 76 players per group (Maximum player to coach ratio of 6:1 for all skills sessions).
The camp includes:
5 skills sessions (60-70 mins each)

Three (3) Team skills sessions
Two (2) Position specific skills sessions
Lead instructors are current NCAA Div 1, AHL, USHL, and U.S. NTDP coaches and staff
3+ instructors on the ice per session
Most/all sessions will include a goalie instructor

3 full-ice games (3 X 15 Minute stop time)

2011s are non-contact
2009s are full contact

Performance Nutrition lecture & presentation
Maize & Blue camp jersey & socks
To be considered, please fill out the inquiry form here
Cost:
Contact
Name: Nick Betz
Email: nbetz@playhockey.com
Phone: (586) 854-2170
Inquire Today!
Hotels
This is a Stay To Play (STP) event. All participating teams/individuals that live outside of an hour are considered travel participants and must follow the event STP policy unless otherwise approved by the event director. Should a team/individual decide that they do not want to stay in our approved hotels there is an opt-out fee.
Click here o book your accommodation.
For information or questions regarding hotel bookings - please contact Team Travel Source at playhockey@teamtravelsource.com or 502-354-9103.
Rules
GAME RULES
Body (Checking) contact will begin at the 2008 age group.

All games will be 3 x 15 min stop time periods. Ice cut at the half way point of the 2nd period (first whistle after 7:30).

Penalties will result in a shootout attempt. If the player doesn't score, faceoff will be in zone. If player scores, faceoff at center ice.

Touch-up offsides.
OFFICIALS
A zero tolerance for verbal abuse is in effect and will be enforced for all team officials, players, and spectators.

Appropriate penalties will be assessed for disputing or arguing a decision of the officials, any visual demonstration of dissatisfaction, or for the use of obscene or vulgar language to anyone at any time during the event.
FAQ
Participants for our Prime and other invite-only events are selected by our coaches and scouting staff. In most cases, players are invited based on either feedback from our staff from the prior Spring, or from our in-person scouting efforts during the Fall/Winter season. If you would like your child to be considered, please fill out the Inquiry form.
Please refer to our cancellation policy
here
.
Of course! We offer female only tournaments, female specific teams, and a number of co-ed tournaments with female divisions. Please fill out our contact form <here> and we will be in touch to walk you through our female programming!
Things To Do
Legoland Discovery Centre

If you are a Lego fan then you came to the right place! Check out the Legoland Discovery Centre.

See More

Ann Arbor Hands on Museum

This museum is unique in that its hands on and interactive for everyone.

See More

Matthaei Botanical Gardens and Nichols Arboretum

Matthaei Botanical Gardens and Nichols Arboretum Conservatory offers tours, walks, trails, and showcases an artwork that's fun for everyone.

See More
Camp Staff
2023 Camp Staff
Nick Betz- Admin
Play Hockey
Jon Globke - Admin
Play Hockey
Jared DeMichel - Lead Instructor
Michigan State - Associate Head Coach
Kevin Reiter - Lead Instructor
University of Michigan - Assistant Coach
Kevin Patrick - Lead Instructor
Culver Academy - Boys Hockey Programming Manager & U18 HC
Mike Hamilton - Lead Instructor
USHL Head Coach
Brad Fast - Lead Instructor
MSU Director of Player Development
Cam Cooper - Assistant Instructor
Bell Tire U14 - Coach
Ryan Hayes - Assistant Instructor
USNTDP- Assistant Coach
Trevor Coykendell - Assistant Instructor
Adrian College Hockey Coach
Andy Howard - Assistant Instructor
Medicine Hat Tigers WHL
Matt Johnson - Assistant Instructor
Bell Tire U14 - Coach
Mike Towns - Lead Instructor
Michigan State University - Assistant Coach
Sample Camp Schedule