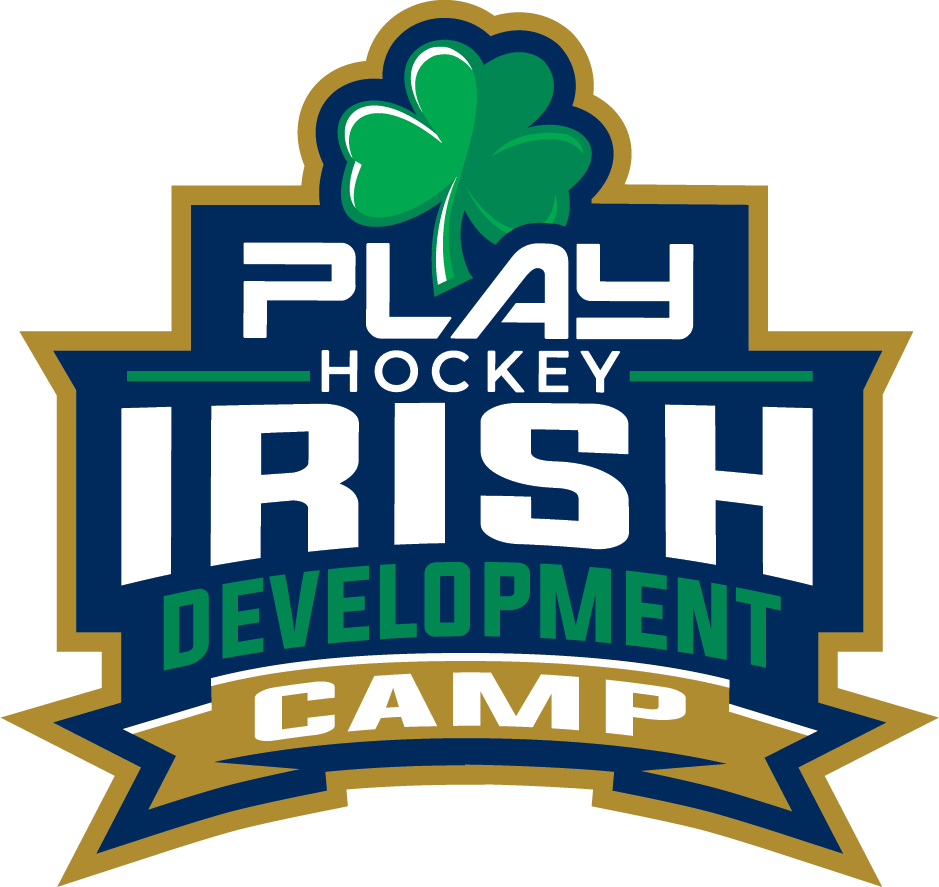 PH IRISH DEVELOPMENT CAMP
Gender:

Male

Dates:

July 19-22, 2023

Age:

2009-2014

Location:

South Bend, IN
Elite Division

Division

Male Event

Development

Individual-Entry
Register Now!
Event Details
The 2023 Play Hockey Irish Development Camp will host players from the US and Canada at the 2009 - 2014 birth years. Participants will have the unique opportunity to learn transferable-to-game skills from professional coaches at various levels, including AHL, NCAA Div I, U.S. National Team Development Program, USHL, and Bishop Kearney Selects. The Camp will host a maximum player-to-coach ratio of 6:1 for all skills sessions.
Location: University of Notre Dame - South Bend, IN
5 skills sessions (60-70 mins each)

Three (3) Team skills sessions

Two (2) Position specific skills sessions

Lead instructors are former and current professional coaches with experience in Jr, college, and pro levels

3+ instructors on the ice per session

Most/all sessions will include a goalie instructor

2 full-ice games (3 X 15 Minute stop time)

2011 - 2014s are non-contact

2009 - 2010s are full contact

Performance Nutrition lecture & presentation

Blue & Gold jersey & socks



Contact Information:
Jon Globke | jglobke@playhockey.com

Nick Betz | nbetz@playhockey.com
Cost: $600 USD
Register Now!
Contact
Name: Jon Globke
Email: jglobke@playhockey.com
Phone: (248) 770-2904
Inquire Today!
Hotels
This is a Stay To Play (STP) event. All participating teams/individuals that live outside of an hour are considered a travel participant and must follow the event STP policy, unless otherwise approved by the event director. Should a team/individual decide that they do not want to stay in our approved hotels there is an opt out fee.
To book your accommodation, please click here.
This event starts Wednesday morning and runs through to Saturday evening - please plan your trip accordingly.
Arenas
Compton Ice Arena

100 Compton Family Ice Arena, Notre Dame
Notre Dame, IN 46556
Get Directions
FAQ
If you're interested in a specific event, please reach out to the contact listed on the event page. If you'd like to discuss multiple events, please fill out our contact form
here
and we will be in touch with you shortly!
Please refer to our cancellation policy
here
.
Of course! Finding the right tournament is important and we'd love to help. Please fill out our contact form
here
and we will be in touch shortly!
Play Hockey offers tournaments across all levels, from Recreational / Open to Elite. Please contact us today and we can assist you with finding the right offering for your Player or Team.
Of course! We offer female only tournaments, female specific teams, and a number of co-ed tournaments with female divisions. Please fill out our contact form <here> and we will be in touch to walk you through our female programming!